The process of creation for my Lazy Fox started with the decision as to how this website would be laid out. It dictated the details of the pose the fox would need to take. Initial sketches did pose him differently than the final piece, but that evolution happened as a result of my desire to take the header and run it full stretch, with the fox as a part of it rather than looming above it.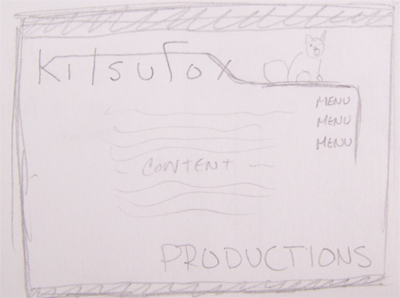 From this starting thumbnail I proceeded into the phase of constructing the fox image. During this process I realized that, in relationship to the logo, I would need to change the pose from the starting doodle. In accordance, I altered the pose to one that better suited the shape and layout of the website as it was developed.
The next phase was to find a reference stock image that was perfectly suited to the pose and placement I desired. I found what I was looking for in deviantArt photographer Samuel-fallenangel's stock photograph Goodmorning.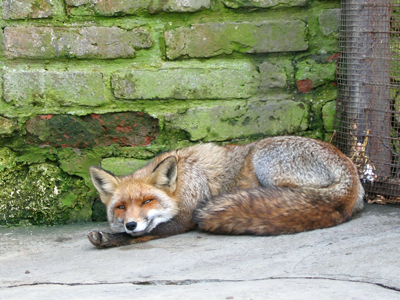 The process from that point on got very simple. I proceeded to work in Adobe Illustrator over Samuel's picture, simplifying, selecting both shapes and colors and processing the image until it reached a state that I considered finished.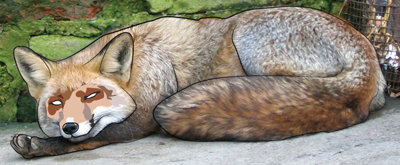 First a line-art version of the image was created, drawn directly over the original photograph. I kept these lines as simple as possible, with the idea that any other lines needed to finish the art would be added later, or provided during the coloring phase. The coloring continued until the body was completed.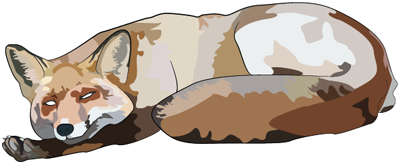 The completed color of the body resulted in a good image, but the lack of the eyes made it suffer terribly and rendered the overall appearance oddly disconcerting.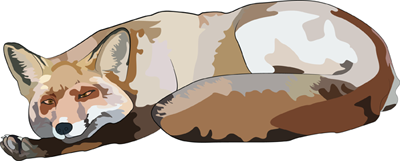 Once the eyes were finished and the image was considered completed the overall look could finally be considered. I was pleased with the result and very satisfied with the product that was achieved.
Following completion the project was wrapped and he was able to be applied to this website, my resume, business card, and is prepared for feature anywhere else I might need him to appear.
[ back ]